The wonderful Missouri Foundation for Health grant we've operated under for 5 years has ended, so your support and donations are more important now than ever before. Please help us support the Southern Boone County R-1 School District and their new Garden Teacher, Hope Sickmeier, in their efforts to continue garden-based learning for students here! The Southern Boone Learning Garden nonprofit 501(c)(3) organization must continue to raise funds & provide volunteer support for the current school year for educational and gardening supplies for students and teachers, and to provide garden maintenance support to the school district. Your donations of time, materials, and money will be used for things like plants, tools, compost, 5-gallon buckets and straw, in addition to helping us get the following: a hand-washing/produce-rinsing station, a food processor, a blender, an aerogarden and more! Click HERE for a complete 'Wish List'. And thank you!!!!!
For information about school-day (preschool - high school) Learning Garden programming, please contact Hope Sickmeier at hsickmeier@ashland.k12.mo.us or (573) 657-2145. For information about after-school programs like the Elementary Garden Club & Middle School Cooking Club, Farm to School, the SBLG nonprofit organization, or community programs like the Walking School Bus (Sept. 4 through Oct. 4, 2019), please contact SBLG Board Chair Ernie Wren at erniewren@gmail.com.
"I think it's wonderful to expose the kids to the vegetables that you can grow. My son is very stubborn about what he will eat and does not like to try things at home. My hope is that being around other kids his age who are trying new things will encourage him to do so as well." Kindergarten parent, Southern Boone County Primary School-kindergarten parent.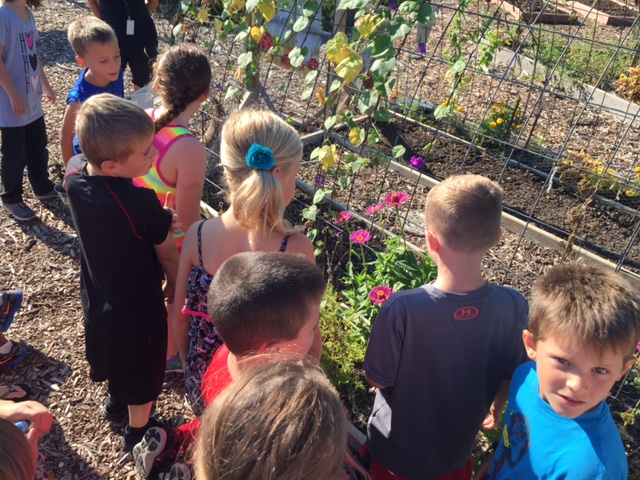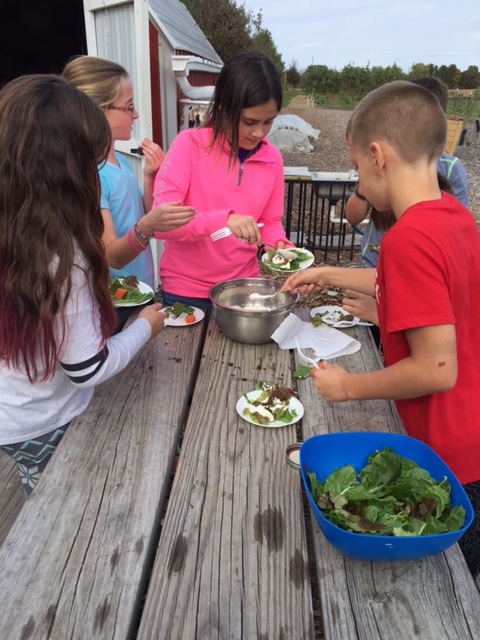 Elementary Garden Clubbers learn the basics of gardening and growing food, preparing delicious (and nutritious) snacks, and being informed stewards of the natural world on which we all depend.
Turnips, sweet potatoes & radishes - oh my! Each Garden Clubber chooses, plants & tends fall crops in their own garden plot. Kids take care of their plots, help each other, & take care of the big garden too - all with help from the educators and volunteers. Students always take great pride and responsibility in growing food and helping their garden look good! Along the way we do a lot of garden work (weeding, watering, harvesting, pest control, composting, etc.), make garden pizzas or tacos & salads, harvest sweet potatoes, and so much more!!
While the school district is now in charge of the school-day classes, the Southern Boone Learning Garden nonprofit organization still operates the after-school Elementary Garden Club. Your donations will provide SBLG with funding needed to continue this wonderful & popular program. Thank you for your support!!!
MIDDLE SCHOOL COOKING CLUB
This four-week program invites students to explore the art and science of preparing healthy, tasty dishes featuring fresh ingredients from the garden. Each meeting provides opportunities to learn about, prepare and enjoy a different course: this semester the weekly themes were breakfast, lunch, dinner & dessert! We finished with a "Chopped Challenge" of tacos that was just wonderful!
This Cooking Club is partially supported by generous weekly food donations from the Wonderful Rock Bridge HyVee food store in Columbia - Thank You!!!
The mission of the Southern Boone Learning Garden is to provide outdoor classroom space and resources; to facilitate fun, authentic learning experiences that challenge students to embrace positive life skills; and to promote collaborative efforts between the Learning Garden, the school district, and the community.
The vision of Southern Boone Learning Garden is a healthy community in which students and families are actively engaged in the production of good food.
Help us by donating your time.
Whether it's as an after-school volunteer with our Elementary Garden Club or Middle School Cooking Club, as a Garden Maintenance volunteer helping water, weed & more on the weekends and breaks, or as a SBLG Board Member or committee member - WE NEED YOU!!! If you're passionate about helping kids, teachers & families learn to grow & eat healthy food, then this is the community organization for you. If you want to help kids and families learn about nature, environmental conservation, & sustainable agriculture, then this is the community organization for you! Check our Volunteer Opportunities to see when and where you can come help us out. Contact SBLG Board Chair Ernie Wren at erniewren@gmail.com for more information. Thank you, thank you, thank you!!!
Help us by donating financially.
As is the life of a nonprofit we are in a continual fundraising state. And as much as we would love to completely exist apart from money, there are certain things we just cannot purchase with cucumbers, bok choy, and carrots. Every little bit helps, so if you're interested in making a tax-deductible donation to help this 501(c)(3) Nonprofit Organization, please visit our Donation page. And thank you!